Add some spice to your festivities at our Cinnamon Kitchen restaurants. We have the perfect menus and drinks to get you in the festive mood, even if it strays a little from the traditional. Whether it is for your office party or just a family get together, our contemporary Indian menus alongside our stunning restaurant interiors are the perfect location to carry you through the merriment. It's the perfect way to spend Christmas 2020.
After the year we've all had, there's nothing better than using Christmas as an excuse to get together again. Let us give you great food and a great atmosphere, and you can bring a great company.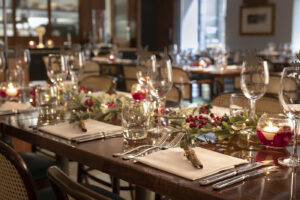 City
Located in the heart of the business district, Cinnamon Kitchen City is in the perfect location for your  Christmas party. It boasts a stunning private dining space with a window to the pass, offering great food theatre to you. Sitting in Devonshire Square, move on after your meal to our all-weather outside terrace and sip on cocktails under the winter stars.
Festive Feast | Christmas Day | NYE
Oxford
Take a break from your Christmas shopping and head to the Westgate Roof Terrace for a taste of India. Whether you're looking for a delicious lunch or the perfect Christmas party venue, Cinnamon Kitchen Oxford has something for everyone during the festive season. Finish the year with Oxford Spires view. A great way to ring in 2021. Please note Cinnamon Kitchen Oxford is closed on Christmas Day.
Battersea
Sat on the River Thames, Cinnamon Kitchen Battersea is just a stone's throw away from the beautiful Battersea Park and striking Chelsea Bridge. The rustic industrial interiors combined with the opulent furnishings create a sophisticated atmosphere, perfect for your festive celebrations. Take a break from the traditional and enjoy refined dishes with Indian spices packed with flavour.
Festive Feast | Christmas Day | NYE
Christmas Gift Vouchers
Treat your friends and family to a Cinnamon Kitchen gift card this year. Have them enjoy the flavours of India and lap up the Cinnamon Kitchen experience with this lovely gift, available packaged up or electronically.