The high-energy, theatrical dining room, with its open tandoor grill, offers an interactive dining experience which is as memorable as the food.
Since Cinnamon Kitchen opened it has established itself as one of the finest modern Indian restaurants in London. Cinnamon Kitchen continues to challenge the status quo by fusing the spice of the subcontinent with the finest British ingredients and culinary traditions to create modern dishes that remain classic and timeless.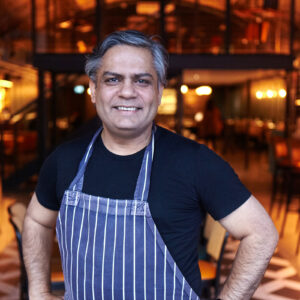 Vivek Singh
Classically trained in India, Vivek has transformed the face of Indian cooking by drawing inspiration from age-old recipes and ideas and evolving them to create dishes 'beyond authenticity'.
With a global reputation as one of the masters of Indian fine dining, Vivek Singh's signature culinary style marries modern Indian flavours with Western techniques. Executive Chef & CEO of four London and one Oxford restaurants, author of six cookbooks and a regular face on both television and live cookery events across the country, Vivek Singh is one of the most inspiring Indian chefs of his generation.
Outside of the kitchen Vivek has authored three bestselling cookbooks and is a regular on BBC's Saturday Kitchen, Celebrity MasterChef and UKTV's Market Kitchen.