Continuing our 15th Anniversary celebrations…. we are thrilled to bring to you five of London's most spice-obsessed chefs each bringing to the table a unique dish for the hottest night of the year at only £95! We are proud to join hands with Will Bowlby of Kricket, Adriana Cavita of Cavita and Gavin Malleappah of Rambutan and our very own Vivek Singh and Raju Ramachandran for an exclusive canape reception followed by a four-course dinner on 6th October at Cinnamon Kitchen City in Devonshire Square.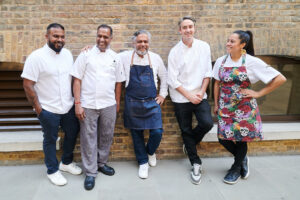 The menu brings a unique combination of distinctively different cuisines together to celebrate London's love for spice. Each chef will showcase what spice means to them by creating their favourite dish, one course at a time, for one night only.
The evening will begin with signature flavours and delicious canapés from Vivek Singh followed by former Cinnamon Kitchen City chef, Will Bowlby, bringing his Indian-inspired small plates to the table with ghee roast crab with burnt cinnamon. Next up, Mexican-born Adriana Cavita's favourite native dish, chutoro tostadas with salsa macha, ginger soy vinaigrette and avocado purée.
Gavin Malleappah, formerly part of Vivek's kitchen brigade at The Cinnamon Club, will delight you with a modern twist on a traditional Sri-Lankan dish, serving black pork belly curry with string hoppers, whilst Cinnamon Kitchen's Raju Ramachandran's is cooking up his signature dish of Chettinad spiced lamb chops.
After indulging in the vibrant flavours of the evening, you will have a chance to engage in a lively Q&A session with all the chefs!
The tickets are a steal at £95! Don't miss your chance to grab a ticket now!