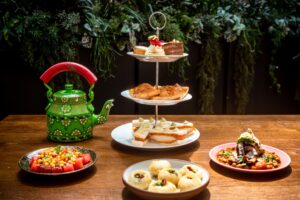 AFTERNOON TEA ON THE TERRACE
The perfect amalgamation of British late afternoon and 
Indian
early evening tea practices, we bring to you the 
Afternoon Tea
on 
the Terrace where you can enjoy afternoon tea with a twist!
Choose from our wide range of specialty teas or the classic Masala Chai alongside a tower of classic Indian evening tea staples.
It is an Afternoon Tea experience like no other.
Don't eat meat? Not to worry… we also offer vegetarian
alternatives!
So…. have 90 minutes to spare?
Come Join us in Devonshire Square…
For our Afternoon Tea with a cultural flair…
All while enjoying the fresh air!